As I walked through the forest I came across this rusted out old car, colorful and turquoise … a work of car art.
That's how I saw it, at least, even before I took a photo.
This was the coolest thing I had seen in awhile and I couldn't wait to capture it with my iPhone camera and then rush to apply some apps to create some new art.
(I'll post the original photo in a separate post so that you can see, the composition, color, texture and moment was awesome, even with no apps or image manipulation applied)
But for now, here you go. This wild piece of camera art gives me so much JOY!
~Brenda Johima~
(p.s. environmentalists, I agree, we need to get this junk out of the forest, should never be there I suppose, but in the meantime, it's an artist/photographers dream)
HAPPY New Year!
2013 for me, feels like it's filled with promise and optimism, moving forward and going for it!
How about for you?
2012 was tough for a lot of people, myself included, and there's something magical about beginning with a blank canvas, a brand new year to start all over again. I've not made any New Years resolutions, zero. However, I am super excited to begin anew.
On a business note, watch for my new eBook in 2013, as well as a new website right here, and a brand new (separate) portfolio website that only showcases my photographic images.
Be well, be happy, look for the good, love more than ever before, and I look forward to connecting with you throughout the year.
— Brenda Johima
Copyright 2012Brenda Johima | Images May Not Be Used Without Written Permission
NEWS!
(Revised April 11, 2013, Start Date for New Launch was instead, April 1, 2013. And that's no April Fool's joke 🙂
November 1st, 2012, today! I've launched a new business! Johima Photography.
Please stay tuned while my website is updated to reflect this great news! More focus! A new focus!
— Brenda Johima
All Art and Photography Copyright 2012 Brenda Johima
This.
She's brought so much JOY and Happiness into my life. Xena! (she's 5 months old here)
— Brenda
All Images Copyright Brenda Johima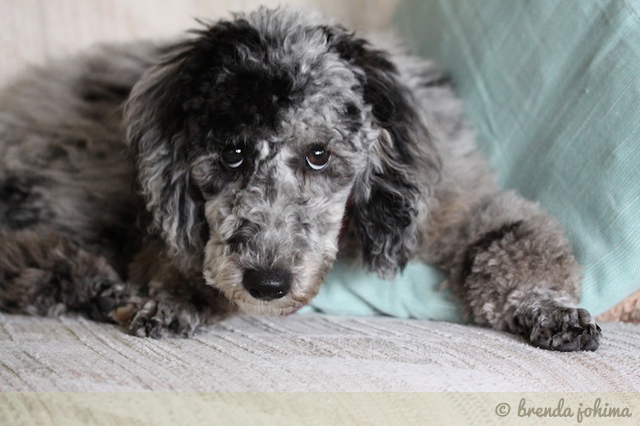 All Images Copyright Brenda Johima
All Images Copyright Brenda Johima
All Images Copyright Brenda Johima
Hey! I just created a new blog that will be dedicated to only my writing. The first blog post is now online! I'd be thrilled if you would read … Xena the Poodle Puppy and the Homeless Man
Please join me in … Thinking About More Things. (Brenda Johima Writes)
I'll still put blog posts to share my photography, art and iPhoneography on this website right here, and this is still my main "hub" for most of my creative work … AND … I'm excited to have a second creative blog that will focus on only writing.
Brenda
I'll be in the Northern Interior of B.C., in Prince George this fall (2012) for two workshops.
In the workshop below, I'll cover the basics of iPhone photography (iPhoneography) and mobile photography for artists and business owners. It's intended to be an introductory workshop but anyone at any level of ability is welcome to attend 🙂
This session will be hands-on so please bring your choice of an iPhone or any mobile phone that has the ability to connect WIFI or 3G. There will be no boring PowerPoint in this session. You'll be active, interactive, learning and busy. The  majority of the presentation will focus on iPhone photography and apps available for iPhone cameras, however, I've had people attend this session with almost any cell phone camera (or no mobile phone at all) and still received benefit, as we also cover the very basics of fine art and design principles as it applies to improving your photography skills for either personal use or for mobile phone marketing online. Everyone is welcome!
Here is their write up below. Please contact the gallery directly and visit the Two Rivers Gallery website as they are taking care of all payments and registrations for me. Thank you!
iPhoneography Workshop

Saturday, September 22, 1:00 – 5:00 pm

Facilitator: Brenda Johima

Bring your iPhone to the Gallery for some hands-on fun! Comox Valley artist and photographer Brenda Johima wants to share with you the world of iPhoneography. Brenda uses her iPhone to capture the images and for all post-processing involved in creating a piece of art. She will introduce you to cool photography aps and open your eyes to the possibilities of photography with your iPhone. Head out for a "photo walk," create on the go and share back in the studio. Android smartphones are welcome too.

Website : Two Rivers Gallery
Facebook page : TwoRiversArt
Twitter : @TwoRiversArt
Address : Two Rivers Gallery, 725 Civic Plaza, Prince George, B.C., V2L 5T1
Phone : 250-614-7804

Find out more about Brenda Johima's business(s) right here :

brendajohima.com (art and photography website)
JOHIMA Social Media + Marketing
There's a second workshop as well and it's all about the basics of Social Media For Artists (and business owners) and is on Sunday, September 23rd, right after the one above. I've got a FUN weekend planned for you! 🙂
Art and Photography is Copyright Brenda Johima
As one who loves to photograph other people, I still run far away from a camera if I see one ready to take my own photo.
So I've been experimenting with self-portraits as a creative tool instead. Some are cartoon-ey, some creepy, some very creative and beautiful, and others are for just plain FUN.
I'm finding it very rewarding and healing, actually. Here's my latest work of art. It's a little bit creepy and very cool and very beautiful. Love it.
This is a compilation of multiple photographs, including landscape photography, combined with self portrait(s) and the work has been created using both an iPhone 4s, multiple art and photo apps in-camera (in-phone) and then finished off with a touch of Photoshop.
(so for those purist iPhoneographers out there, this is not a pure iPhoneography piece, and not purist photography either, but ART, or iPhone photo-art … the lines have become very blurred with the rise of mobile photography mixed with traditional and digital media and it's all very exciting)
I'm thrilled with how it has turned out. How about you? Give it a try.
— Brenda Johima
Copyright 2012 Brenda Johima | Images May Not Be Used In Any Way Without Written Permission
Copyright 2012 Brenda Johima | Images May Not Be Used In Any Way Without Written Permission
If I Had A Cape … I might fly like the wind, I might grab my cape and fly through blue skies filled with white puffy cotton ball clouds, gargantugiantus (made up word) clouds that are soft and comforting, embracing me into a lovely nap of creativity, then POOF! I wake up and say … OK, who would I like to be today? Let's try on a new hat, see what we feel and see. Then tomorrow, my cape and I, onto another adventure, into yet another new being. Each day, I am anew, again and again and again. —Brenda Johima
**P.S. Just for FUN I did a rough sketch to go with this my cape writing. What are you doing to put your creativity out there, perfect or not? Just. For. FUN.
By Brenda Johima Not-So-Perfect-Cartoons