Good Morning! Today is change your password day! OK, I made that up, but it's a good idea to change your password on a regular basis.
You must create strong passwords and change your passwords on a regular basis. It's your best defense against hackers.
And … even if you do create strong passwords, there are people out there who have nothing better to do than to try to figure out how to hack your website(s) … It happened to me.
Anyway, onward and upward! I'm back online thanks to some secret help. You know who you are, and thank YOU!
My domains were hacked in addition to (apparently) hundreds of other customers so as an added protection, I've also happily moved all of my domains to a new web hosting company, Media Temple :  http://www.mediatemple.net#a_aid=50aa25ae17f0e (join me via my affiliate link)
And do you know what?
Many people don't know how to do this … how to create a strong password. Is that you? It's OK. So today I'm giving you some tips right here so you can quietly go away and do this right now and nobody will know you didn't know 😉
Here we go. TIPS. How to create a strong password :
Use a minimum of 10 characters, yes, that's TEN. And yes, that's a "minimum" of ten characters.
Use a combination of upper and lower case letters, numbers and symbols.
Avoid repeating characters. For example, "222" or "Bbb." Mix it up.
Don't use your birthdate, name, initials, dog's name, nickname, child's name or anything easily identifiable as you.
Don't use recognizable words and phrases. For example "mydogToby" or "sunny1234"
If you can remember your password, it's likely not strong enough. Yes, make it hard to remember.
Use different passwords for different websites, social networks, email accounts and banking. Meaning, do not use the same password across all accounts. Think of it like having a different key to your house, office, car … one key doesn't open all the different doors.
Never use the same password for banking that you use for email or social networks.
In addition, password protect your actual digital device … computers, iPhone, iPad etc. Yes, it may be a nuisance, but think of it like locking the door before you leave the house to go out. Make it harder for them to get into your "house" without a key. Make yourself have to login to each device with a password every time. (I admit, I don't even like doing this but I do now)
If you are using WordPress, change your password from within the dashboard while logged in. Try to avoid using the "forgot my password" option that emails you a new password reset via the web if you can, unless you really have no other way to get in.
Log out of social networks, GMail, banking, WordPress dashboard etc., when you're finished what you are doing. This is especially difficult (and inconvenient) to remember for those of us who work online and are often managing multiple accounts simultaneously.
Don't give anybody your password(s) except for paid trusted professionals that you KNOW, who need access to assist you with your websites, online marketing, etc., and even then, what I advise clients to do is to change the password again, after their work/tasks are completed each month, if you're in a monthly contract agreement.
This list is a working document and will change again, as the web changes constantly. This is a pretty comprehensive list, but it seems there's always more. *This is not a legal document. These are my TIPS for today. Always do your own research and keep up to date with any changes and recommendations by your service provider and social  networks, for ways to protect your assets, your business, your privacy and security online.
If in doubt, or if you want to learn more about password security, every social network, Google and Bing all have documents that lay out their recommended guidelines for password protection, security and privacy. Read them and keep things up to date.
Hope this has been helpful!
—Brenda Johima
Mine. Mine. Mine. All Mine.
As a photographer, fan and regular user of WordPress, and from my love of, and support for the tech community in Victoria B.C., I spoke at WordCamp Victoria 2012 on the topic of Copyright and joined my friend and colleague, Janis La Couvee. The title of our session was Disclosures, Attribution and Copyright.
As an update to the blog post above (follow the links) I'd like to say Congratulations! and a big YaaaHoooo!
Today, November 7th is a great day for Canadian photographers, who have finally won the battle to own what was always rightly theirs, image ownership via copyright to their own work.
"As of today, Canadian photographers now officially own the copyright to all of their work whether the photograph is commissioned or not, thanks to the new Copyright law."
Here's a link to the full article that explains the great news, from the Canadian Association of Image Creators (CAPIC) with their blog post titled, A Great Victory for Canadian Photographers and they will have more news posted in the coming week, I understand.
Canadian Photographers OWN Their Own Copyright. It's now time to CELEBRATE!!
Finally! Copy. RIGHT.
— Brenda Johima
"Mine. Mine. Mine. All Mine." Hopefully We Will Now See Less Disappearing Images. © 2012 Brenda Johima
NEWS!
(Revised April 11, 2013, Start Date for New Launch was instead, April 1, 2013. And that's no April Fool's joke 🙂
November 1st, 2012, today! I've launched a new business! Johima Photography.
Please stay tuned while my website is updated to reflect this great news! More focus! A new focus!
— Brenda Johima
All Art and Photography Copyright 2012 Brenda Johima
This.
She's brought so much JOY and Happiness into my life. Xena! (she's 5 months old here)
— Brenda
All Images Copyright Brenda Johima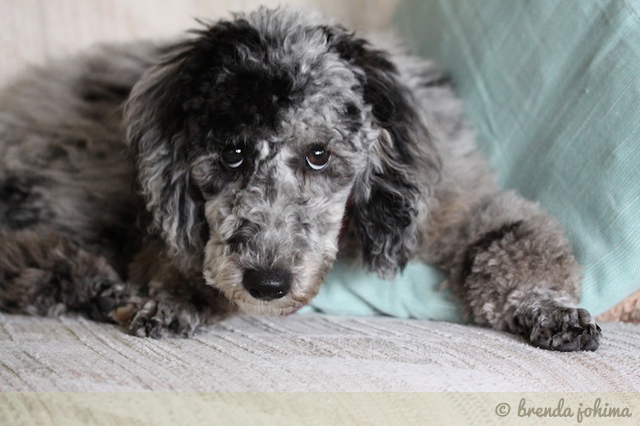 All Images Copyright Brenda Johima
All Images Copyright Brenda Johima
All Images Copyright Brenda Johima
Hey! I just created a new blog that will be dedicated to only my writing. The first blog post is now online! I'd be thrilled if you would read … Xena the Poodle Puppy and the Homeless Man
Please join me in … Thinking About More Things. (Brenda Johima Writes)
I'll still put blog posts to share my photography, art and iPhoneography on this website right here, and this is still my main "hub" for most of my creative work … AND … I'm excited to have a second creative blog that will focus on only writing.
Brenda
I'll be in the Northern Interior of B.C., in Prince George this fall (2012) for two workshops.
In the workshop below, I'll cover the basics of iPhone photography (iPhoneography) and mobile photography for artists and business owners. It's intended to be an introductory workshop but anyone at any level of ability is welcome to attend 🙂
This session will be hands-on so please bring your choice of an iPhone or any mobile phone that has the ability to connect WIFI or 3G. There will be no boring PowerPoint in this session. You'll be active, interactive, learning and busy. The  majority of the presentation will focus on iPhone photography and apps available for iPhone cameras, however, I've had people attend this session with almost any cell phone camera (or no mobile phone at all) and still received benefit, as we also cover the very basics of fine art and design principles as it applies to improving your photography skills for either personal use or for mobile phone marketing online. Everyone is welcome!
Here is their write up below. Please contact the gallery directly and visit the Two Rivers Gallery website as they are taking care of all payments and registrations for me. Thank you!
iPhoneography Workshop

Saturday, September 22, 1:00 – 5:00 pm

Facilitator: Brenda Johima

Bring your iPhone to the Gallery for some hands-on fun! Comox Valley artist and photographer Brenda Johima wants to share with you the world of iPhoneography. Brenda uses her iPhone to capture the images and for all post-processing involved in creating a piece of art. She will introduce you to cool photography aps and open your eyes to the possibilities of photography with your iPhone. Head out for a "photo walk," create on the go and share back in the studio. Android smartphones are welcome too.

Website : Two Rivers Gallery
Facebook page : TwoRiversArt
Twitter : @TwoRiversArt
Address : Two Rivers Gallery, 725 Civic Plaza, Prince George, B.C., V2L 5T1
Phone : 250-614-7804

Find out more about Brenda Johima's business(s) right here :

brendajohima.com (art and photography website)
JOHIMA Social Media + Marketing
There's a second workshop as well and it's all about the basics of Social Media For Artists (and business owners) and is on Sunday, September 23rd, right after the one above. I've got a FUN weekend planned for you! 🙂
Art and Photography is Copyright Brenda Johima